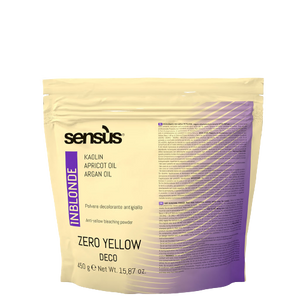 sensuscanada
ZERO YELLOW DECO ( Bleach Powder )
Regular price
Sale price
$46.99
---
Powdered hair decolourant with anti-yellowing, conditioning and lightening action. SENS.ÙS ZERO YELLOW DECO, violet powder bleach with anti-yellow effect for lifting treated or sensitized hair, suitable for all the most popular techniques used by professionals. A new tool from SENS.ÙS that is kind to hair but still delivers a sensational blonde.
DIRECTIONS:
SALON USE:
Is prepared with SENS.ÙS LUX ACTIVATOR OR SENS.ÙS CREAM ACTIVATOR 10 VOL. (3%), 20 VOL. (6%), 30 VOL. (9%), 40 VOL. (12%) with a mixing ratio of 1:2 (1 part powder bleach and 2 parts oxidizing cream). The choice of oxidizing cream depends on the lightening effect and the condition of the hair. The development time, which varies from 10 to 50 minutes, depending on the desired lift.
Mix 30g Deco Zero Yellow with 60 g of Sens.ùs Cream Activator/Lux Activator, (1:2), choosing the desired volume of the Hydrogen Peroxide: 10/20/30/40 vol. Apply the mixture to dry and not washed hair. Leave on far 20 to 50 minutes according to the level of lightening required.
Having reached the desired level of Lightening, rinse thoroughly to remove the product.
Size 450gr
PURPOSE:
TO BLEACH
INGREDIENTS:
KAOLIN, ARGAN OIL, APRICOT OIL
KAOLIN:
It gently cleanses and purifies. White clay effectively absorbs excess sebum and impurities. Thanks to its chemical composition, kaolin, also known as white clay, helps to remineralize and detoxify by drawing out toxins and impurities and replacing them with mineral salts.
ARGAN OIL:
Argan oil is obtained from the fruits of the argan tree and is rich in antioxidant substances such as vitamin E, fatty acids and flavonoids. Helps prevent aging of hair, fighting free radicals.
APRICOT OIL:
It helps reduce frizz, for stronger, healthier hair that is split-end free. Apricot oil also helps to protect and hydrate.