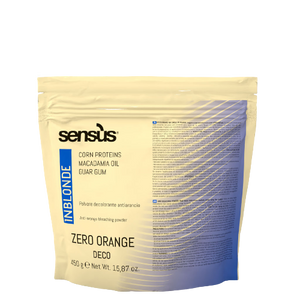 sensuscanada
ZERO ORANGE DECO ( Bleach Powder)
Regular price
Sale price
$46.99
---
SENS.ÙS ZERO ORANGE DECO, blue powder bleach with anti-yellow/orange effect for bleaching natural or cosmetically colored hair with all the most common techniques used by professionals. A product that delivers perfect results in all shades of blonde.
DIRECTION:
SALON USE:
Is prepared with SENS.ÙS LUX ACTIVATOR OR SENS.ÙS CREAM ACTIVATOR 10 VOL. (3%), 20 VOL. (6%), 30 VOL. (9%), 40 VOL. (12%) with a mixing ratio of 1:2 (1 part powder bleach and 2 parts oxidizing cream). The choice of oxidizing cream depends on the lightening effect and the condition of the hair. The development time, which varies from 10 to 50 minutes, depends on the desired lift.

Mix 30g Deco Zero Orange con 60 g di Sens.ùs Cream Activator/Lux Activator, (1:2), choosing the desired volume of the Hydrogen Peroxide: 10/20/30/40 vol. Apply the mixture to dry and not washed hair. Leave on from 10 to 50 minutes according to the level of lightening required.
Having reached the desired level of Lightening, rinse thoroughly to remove the product.
Size:
450 gr 


PURPOSE:
TO BLEACH
INGREDIENTS:
CORN PROTEINS, MACADAMIA OIL, GUAR GUM

MACADAMIA:
Macadamia nuts are native to Australia and are one of the oily nuts which contains the highest percentage of monounsaturated fatty acids, minerals and vitamins. Are believed to be an elixir of long life, they fight free radicals and, as a result, aging.
GUAR GUM:
Helps remove unwanted pigments. Soothing, softening effect on the hair and scalp, leaving them feeling soft and hydrated without weighing down hair.
CORN PROTEINS:
Proteins composed of amino acids essential to the health of the hair fiber (eg cysteine, lysine, arginine). Moisturizing and nourishing action, to condition and soften the hair, reduces skin irritations caused by surfactants.
PLUS:
ANTI-ORANGE ACTION